Demo Show Creator for Quake III Arena
01/10/2001 / from RAL
Demo Show Creator (DSC) is a windows explorer like tool to manage and replay Q3 demos with ease.
Two new handy features of the DSC 1.32 may be interesting for you demo lovers and benchmarkers.
DSC 1.32 supports now drag & drop with the windows explorer. You may drop folders and drives (shotcuts are supported) into the DSC Window. The respecting tree branches are scanned for demo-files. DSC finds demo-files in .zip .pk3 .exe (sfx, winzip) files. How about a CD-ROM with 650 MB zipped demo-files? No problem, drop the drive symbol into DSC and you can see all the demos and replay them directly with Q3A.


As you may know the Q3A Point Release 1.27g is broken for playing any older demos. This is the likely known bad news. But there are good news from DSC 1.32a. First it's compatible with the new demo format from Point Release 1.27g. Second it can handle to play all the old 1.17 demos with an 1.27g installation automatically! See the installation notes in file read1st.txt. Also you may switch the Q3A version manually and set what version should be restored on DSC's termination.
DSC Main Window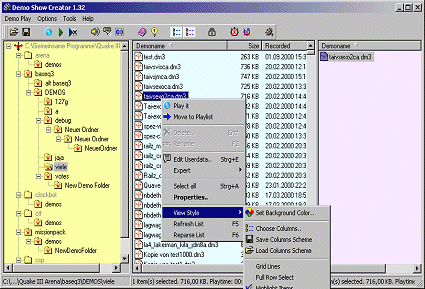 If you would like to test your computer for stability, create a playlist and let it loop infinite in timedemo mode. You can save and load such playlist. The location of the demos within the playlist doesn't matter. They may be on a CD-R within a zip archive or on a floppy disk. Last one is not recommended ;-)
Meanwhile a playlist or single demo is playing, you may vary the replay speed, pause the replay or jump to the next demo from the playlist. Choose a low replay speed and the pause key to make nice screenshots of your demos.
For every demo DSC has scanned, there is a properties window with many informations of the demo. For example here you can save comments for all the players and the demo itself. Or you may watch the course of a game in detail. With the course window you can get an idea of what happens in a game without replaying it.
Properties - Course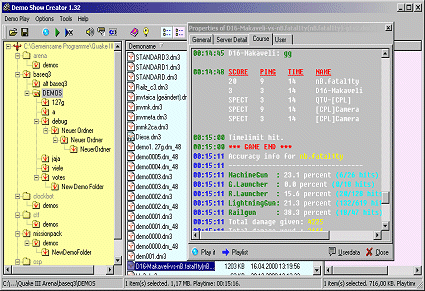 In the player detail window you see some details of the participants of a game. For 1.27g and Team Arena demos there are more details as for the old 1.17 demos.
Player Detail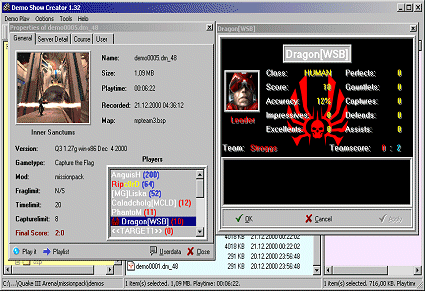 DSC supports custom models, sounds and maps. That means, if a demo uses it and you have installed it, DSC will show it within the properties window
In the end a list of some of the new features
Point Release 1.27g support.
Team Arena support.
Mod support.
Play demos from every location, even from within archives.
New demo playback controls: demo pause and jump to next demo.
New folder management with drag&drop from windows.
Advanced columns management.
New demo parsing code for more and faster demo informations.
Automatically Q3A version switch for replaying PR 1.17 and PR 1.27 demos.
New GUI and new sound engine.
User rating system of demos.
Help file.
Program and documentation complete in english.
Download Demo Show Creator 1.39k (0,99 MB)
Feel free to send bug reports and comments to RAL
You want to help developing DSC as a beta tester? Click here. Thank you!